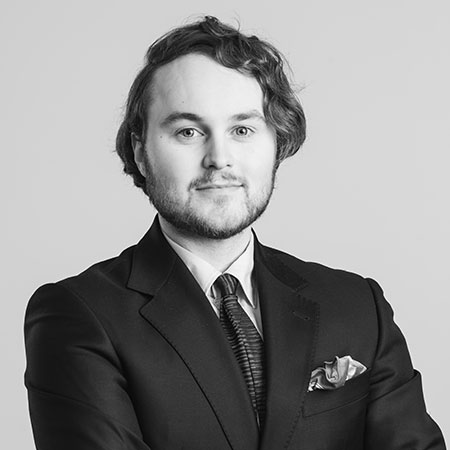 Akseli Von Koch
European Trademark and Design Attorney, Patent Attorney
Akseli von Koch specializes in IPR protection of emerging digital technologies such as IoT, AI and Blockchain. He has particular expertise in wireless communications, software, payment (fintech), sports and medical equipment and algorithms, instruments and music applications, consumer electronics, sensor electronics, gaming and microsystems (MEMS) as well as vehicles and tires.
Akseli's work focuses on business-oriented and comprehensive consultancy in IP protection issues. He is also an accepted service provider for ELY Center "Innovation Commercialization" projects, and has conducted hundreds of IP surveys and drawn up IPR strategies for companies with IP work ranging from patent, trademark and design prosecution to trade secret and freedom-to-operate (FTO) advisory.
Additionally, Akseli also conducts IP valuation studies and assists with licensing of patents and trademarks. He is also frequently involved in corporate transactions and performs related IPR due diligence thereof. He also advises in IPR dispute resolution (litigation) cases ranging from invalidation, opposition and appeal proceedings to court proceedings, and has also assisted in criminal case proceedings, i.a., pertaining to trade secret, software and copyright infringement, providing support in relation to technology-related questions.
Akseli is actively involved in academic and expert seminars and training both as lecturer and participant.
Akseli works at our office in Helsinki.
Expertise
Patents
Trademarks
Designs
IP strategies
Novelty, registrability and freedom-to-operate studies
Infringement analyses
IP valuations
Licensing and technology transfer
Revocations and oppositions
Technical assistance in court proceedings
Financing and subventions, such as Business Finland ja ELY
Education
M.Sc. (Tech), Aalto University School of Engineering, 2015
Career
Heinonen & Co Oy, Attorney-at-law, EU Trademark and Design Attorney, Patent Attorney, 2016–
IPR Partners Ltd, Patent Agent 2012 – 2016
Memberships
Finnish IT Law Association
LES Scandinavia
The Association of Finnish Patent Attorneys
Finnish Association for Industrial Property Rights
Languages
Finnish, English